"Contact Details" 
18 Ripley Grove
Portsmouth
PO3 6NJ
Phone: 07925 302102
Fax: 
E-mail: lockstuff@hotmail.co.uk
Website.https://www.lockonsecurity.co.uk
Checkatrade: Details.https://www.checkatrade.com/trades/LockOnSecurity
Facebook:Details.https://www.facebook.com/lostkeysphoneme
Linkedin:Details.https://www.linkedin.com/in/lock-on-security-b9a125101
Your Local 24 Hour Emergency Locksmith Portsmouth...That actually lives in Portsmouth,and not one of the many National Companies that Claim to be Local, with a Phone/contact number for every Town/City in and around Hampshire.These companies have more overheads to pay for, that is why the charge more than most local independent businesses do. Beware do not get caught out when locked out or need your locks replaced.Why not choose Lock-on Security Locksmith Portsmouth and be safe in the knowledge that you will be looked after in your time of need by a truly local and trusted Portsmouth Locksmith.
All reviews Listed in AboveTimeUK Deep Link Directory
 Door step crime and Bogus callers.                                     Check them out and if in Doubt Lock them OUT                         Not all burglars need to break into your homes.Some will try con there way in claiming to be from your local gas or companies.       There are always ways to identify these  people who come to your door.If at any time you are unsure call the Police and tell them as much as possible about them,  If someone knocks on your door, try to check first through your windows window or spy hole in your door.Ask them for identification to make sure.Do not be fooled by Logos on their Clothing or paper work,If you are not expecting them, caution is better ..Be sure and make sure they are who they claim to be... Beware of callers who might try to distract you by claiming that they have seen something that thet clain needs Urgently fixiing or repairing.There could be others,do not follow them if they wander off round the outside,some will Convenietly have ladders with them,,,They ARE looking for work.If you are at anyn time unsure,do not let them in,ask them to return at another prearranged Time/Date so someone else can be in your home and give you time to check/confirm on Phone or emails to the relevent company involved.Keepypur home secure.Locksmith Portsmouth,Lock-on Security.
Do you have a UVPC OR Composite door ?
Lock snapping prevention hints from your Locksmith Portmouth,Lock-on Security.
Most of these doors operate with a Multipoint locking mechanism witha Euro cylinder lock tomturn the cam in the Locking mechcanism. new/Replacement mechanisms can be supplied and fitted by your local Locksmith Portsmouth.If you have a a euro cylinder lock thatb is suscepible to being snapped I recommend its changed to a more secure one to mhelp prevent this. In order to withstand this method of attack upgrade your euro cylinder lock to a more secure snap resistant one There are mamy to choose from to suit your budget,but it is worth spending a little more to help protect your Home.This will save lots of concern/worry.Keep you Door secure.The MLA has been working with many Police forces on this subject for a while.  The method of lock snapping involves breaking the euro cylinder lock and then manipulate the cam to turn it and open the Locking mechanism.This is the weakest point of most euro cyliders,,,Snap,turn and in..                           
Essentially there are two ways you can ensure the euro cylinder locks on your doors are what is commonly referred to as anti-snap, The Importance of Physical Home Security from your locksmith Portsmouth.Lock-on Security.       
Despite the perceived deterrent provided by household alarm systems the key defence against a burglary remains physical home security. For example, households that suffered an attempted burglary in the British Crime Survey (BCS) study were more likely to have double deadlocks (46%) than those households that experienced an actual break in (37%).
The British Crime Survey (BCS) found that only 1.6% of households with 'high levels' of home security were victims of burglary. This rises to 2.5% with 'some' home security and jumps almost ten fold to 22.5% of households becoming victims of burglary if 'no' home security is present. 'Some' home security includes homes with deadlocks on doors, window locks, or security chains on doors, and 'high' levels of home security includes homes with burglar alarms, internal or external security lighting or bars on windows.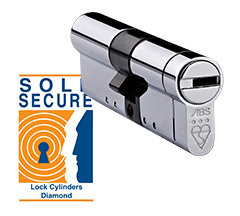 Use a SS312 Standard Lock to prevent lock snapping
<a href="http://www.abovetime.co.uk/">Listed in AboveTime</a>