Lock-on Security. Locksmith Portsmouth.                               24 Hour Emergency service.
18 Ripley Grove
Portsmouth
PO3 6NJ
Phone: 07925 302102
Fax: 
E-mail: lockstuff@hotmail.co.uk
Your "LOCAL" Portsmouth Locksmiths.
24 hour locksmith portsmouth
All reviewsListed in AboveTimeUK Deep Link Directory
Do you have a UPVC or composite Door?
Lock Snapping Prevention Hints From Your Portsmouth Locksmith
Most UPVC and composite doors operate with a multipoint locking system which utilises a lock cylinder available from your Locksmith Portsmouth "Lock-on Security.
If you have a lock that may be susceptible to lock snapping, in order to withstand this method of attack we recommend from Your Locksmiths Portsmouth Upgrade your cylinder to a SS312 diamond approved lock, this being the highest standard achievable for lock cylinders.Failing that – then ensure it is at least a TS007 3 star approved cylinder, ideally kitemarked available from Your 24 Hour Locksmith Portsmouth.
The MLA has been working with Hampshire Police on the subject of lock snapping for a while, to see their tips please view 5 tips to prevent lock snapping
  Front & Back Door Security Contact your Emergency Locksmith Portsmouth
You may have had a new front door or back door installed recently, however this is no guarantee that the locks will provide the necessary level of security to prevent attacks like lock snapping. For this reason we'd encourage the use of a Local Portsmouth Locksmith.
Use a SS312 Standard Lock to prevent lock snapping Supplied and Fitted by Your Locksmith Portsmouth Lock-on Security.
How many people have keys to your home ??
Ways to protect your keys from being copied
Do you know many copies of the keys to your home are in existence? – for example have all previous occupiers/owners given back all their keys?
Were any keys provided to family members or trades people?
In order to increase your security there are ways to reduce the liklihood of rogue keys being in existence
Patented Keys – Keys can't be copied
Patented keys  are keys that can't be copied without proof of ownership. Some patented keys systems for example come with a card that has to be presented to the locksmith in order for a key to be cut.
Restricted Keys  – Keys that are difficult to copy
Restricted keys that can't be easily copied due to their unique design, and the restriction of the availability of key blanks to this design.
If you've recently moved house Your Emergency Locksmith Portsmouth recommend you change your locks, this way you can avoid any 'spare' sets being used.
Keyed alike – Your one key house
As well as increasing security by installing new locks your Locksmith Portsmouth can also provide the convenience of keying your locks alike.This means that the same key can operate every lock in your property.  For example one key can operate your front door, back door and possible even padlocks that you might have on your shed.  
Do you know how keys of your house keys are in existence?
Use a SS312 Standard Lock to prevent lock snapping, supplied and Fitted by Lock-on Security"Your 24 Hour Locksmith Portsmouth"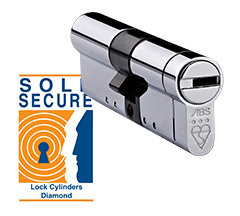 Use a SS312 Standard Lock to prevent lock snapping